Day 3 of my sister's visit, the Thursday before New Year's Eve (is that New Year's Eve, eve?) and on this day it was Bill behind the wheel, with our chariot of choice our regular car, the 2012 Hyundai i30 we call Red Dwarf. My husband planned a much more ambitious itinerary than I drove the day before, and, to avoid visiting any shops, we packed a picnic. There are some upsides to COVID after all, when it reminds us to revisit these simple pleasures. Out came the thermos flask for the first time in years. We made a list, and like Santa, checked it twice, but in the event – we forgot the coffee cups. Luckily the picnic basket had some plastic wine glasses, so they were pressed into service when needed.
The first stop was far from scenic. I mentioned in an earlier post that Australia's 2021 word of the year was STROLLOUT in honour of our slow vaccine rollout, and, although they have been widely used around the world, Rapid Antigen Tests were only approved by the Australian Government on 1 November 2021. We felt it wise to get some for NYE but the first two pharmacies were out of stock. (Days later, we were 'pinged', meaning that for the few minutes we were inside we co-incided with a COVID positive case! But no harm done). On our third attempt, a half hour down the road, we were successful. Lucky for us, because now they are widely out of stock. Sheesh! This Brave New World. It would do Aldous Huxley proud.
Okay, now we were off and away. First of all, we headed for the Killalea State Park. Once upon a time this was farmland perched above a fabulous surf beach. Bill was one of the youths who would drive there, pay the farmer a small amount to access and park on his land, and then hoik his surfboard down the steep hill. Today, a part of it is still known as 'The Farm'. To get there, one now drives through new housing development, including a marina, and for a while, it was quite the fight to stop the suburban spread. It is as recently as December 2021 that it has been protected. We drove up and down and around, and then settled on a little clearing to have our coffee and cake – which is when we discovered the critical item missing from the list – those pesky coffee mugs!
From our spot, a track through the bush led to the beach. So, not everything has been changed. Then we headed back to the main carpark to admire the view before piling back in the car. One downside of this area is sandflies. But still there were plenty of campers and daytrippers around.
At the coffee stop, a little BROWN bird whose species is unknown to me joined us. Kind of looked like a juvenile magpie that had been created by a rogue father 🙂
Next we drove south to the fishing and beachside villages of Gerroa and Gerringong. On a previous visit we'd taken my sister to share a seafood platter from the Fisherman's Club on the hilltop, overlooking Seven Mile Beach – and I think you can guess why it is named that. This time we headed down to the lagoon and beach where holidaymakers were having a wonderful time. It's lovely to see the little kiddies be able to cavort around in the safety of the shallow waters of the lagoon, while mere feet away the beach waves are crashing in.
Bill's itinerary now took an unusual twist as we turned westwards, inland to Berry. Often on our road explorations Bill and I ask each other if we've ever been on this road before, and this was definitely new to both of us. Peeling ourselves away from the golden sands and coastal greenery, we drove through dense bushland and rolling green farmland before we recognised the outskirts of the township we usually approach from a completely different direction.
Berry is a charming country town surrounded by lush, rolling countryside peppered with dairyfarms. Berry is named after the explorer Alexander Berry who took up land grants, becoming the first white settler in the area known as Shoalhaven. Because it is one of the area's oldest settlements, Berry retains its early architecture and treed avenues. Its regular population of around 2,000 is swelled with tourists who often come to shop in its main street of quaint and eclectic establishments or sample its award-winning restaurants.
We chose to set up our picnic in Apex Park, very close to the main street. All the covered picnic tables and benches were taken, other people were spread out on blankets on the grass. In the spirit of keeping our distance, we set up on the benches in the historic rotunda, and spread out our wares: Christmas ham leftover, boiled eggs, salad items – including the Aussie staple of pineapple and beetroot – condiments, sauces, etc, sandwiched between the fresh bread rolls purchased that morning by Bill while we were at the chemist shops (and he was also later 'pinged'*). We finished off with fruit. We realised there was a bakery nearby by the number of people strolling into the park eating pies and sausage rolls out of white paper bags. We were thankful to have prepared our own food, as there must have been quite the queue! There was also a long queue at the Berry Donut Van, a simple caravan kiosk from which fresh cinnamon donuts have been sold for the last fifty-five years. Many people pause in Berry just for that!
After restowing our picnic basket into the boot, we walked all that food off with a stroll up and down main street, and into side streets and by-ways admiring all the shop windows. It would be no hardship to spend a short break in this area, and it is close to many natural attractions as you can see from the map.
Next we took a minor cross-country heavily wooded road to Kangaroo Valley. This is a small township located on the river of the same name, and first spotted by Europeans in 1812, displacing the local Wodi-Wodi people a few years later. Wikipedia tells us that in an 1826 census there were 79 Aborigines living in the valley in five separate encampments.
Again, the streetscape of Kangaroo Valley is little changed from that early settlement, although on a much smaller scale than Berry. On occasions, Bill and I drive here for a day out and lunch in the local pub, The Friendly Inn. It has a pleasant rural view from its back deck, and something new since we were last here is a red telephone box outside! I vividly remember these. You put a coin in the slot, dialled, and if the call was answered, pressed Button A. Your money was gobbled up. No answer, then you pressed Button B. Your money was refunded into the canister at the bottom. Unless someone had stuffed foam up the return chute so they could come by later and "earn" some pocket money. Not that I ever did it (ahemm). I'm sure "someone" must have told me about it. Okay…moving right along. The caravan park on the banks of the river looked busy with summer school holidays in full swing. Just for the heck of it, not at all because of hunger, my sister and I indulged in an ice-cream each as we wandered around. She was good at balancing an ice-cream and mobile (cell) phone – in fact, many of the photos on today's post are hers.
Leaving the township, we wound our way up through more dairy and beef farmland and bush, and, rather than head into the popular main towns of the Southern Highlands (see them on the map), we turned to Robertson, approaching it from the west. This is a green, fertile, cool climate village famous for being featured in the film Babe – which is actually set in rural England – about a pig raised by sheepdogs who goes on to be a herder. It's one of those quirky feel-good movies that you think you are putting on for the kids and instead get hooked on yourself. Other things of note in Robertson, where potatoes are widely grown, is The Big Potato (I know, I know…from a certain angle it does look like a turd); the Pie Shop, which is popular with bikers who have just ridden up the steep and circuitous Macquarie Pass; the heritage Robertson Hotel/Ranelagh House, which in its 1920s heyday was one of the most luxurious hotels of its time; and occasional steam train excursions from Sydney. They also have a thriving annual arts and crafts fair.
Rather than descend Macquarie Pass we turned south to Jamberoo. But just before I leave that thought here's an insight into the pass. The link below is to a video taken by a motorcyclist on the ascent. If you wish to see what the route looks like from our home then begin at the beginning. Otherwise, jump in around the 4 minute mark. Around 8 minutes 20 seconds you'll come to the first of the two extreme hairpin turns where larger vehicles usually have to do a three point turn, and others have to hang back to let them complete the manouevre. The pass section is complete around the 10 minute mark as the driver approaches Robertson. Please don't watch THIS VIDEO if you get car sick or have vertigo. The cyclist goes at a dizzifying rate.
The Robertson to Jamberoo link road is not quite as dizzifying but it is steep and scenic as it winds down the Jamberoo Mountain through rainforest. If stopping off here, there are many activities such as bushwalks to waterfalls, a walk through the rainforest canopy (The Illawarra Fly Treetop Adventure), or a day out with the kids at the Jamberoo Action Water Park. We have taken the grandchildren several times, and one of the great things is you can bring your own food and stay all day, so although the entrance price looks expensive, it turns out great value. My personal favourite is the bobsled, even though it is not water related, and tame in comparison to some of those rides, such as The Funnel Web. Another good thing about the park is that once your children are a certain age, you can safely let them out of your sight for short periods of time.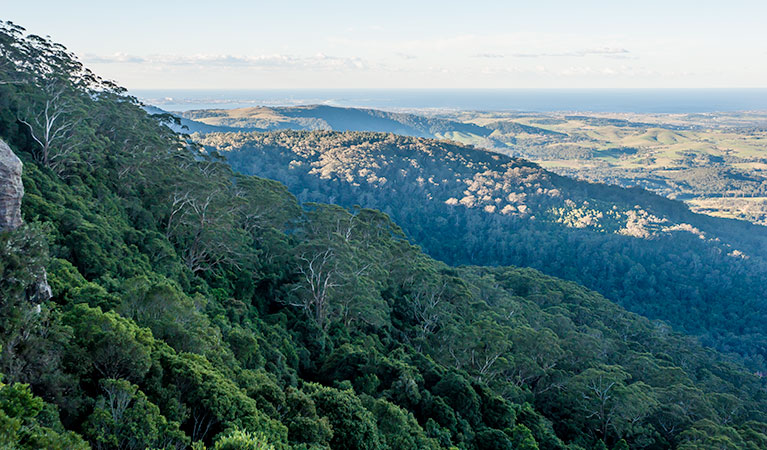 We didn't linger on this day, as for us it was the drive and the scenery, and time was getting on, so at the bottom of the mountain we turned north on a minor road you can see in grey on the above map and headed back to Wollongong.
True to form, Bill had planned ahead by cooking a casserole for dinner, so we could relax on our back balcony and watch the sunset over the escarpment as we sipped our wine and chatted about our day (after we dealt with the leftovers and melted ice in our cool box. Just today I discovered that the toothpicks we had put away in the pantry cupboard had gone mouldy. Hysterical. I've never seen that before, but then again, it's been a long time between picnics 🙂 ).
* Pinging: QR codes must be scanned on entry to most shops and venues, recording your visit on a NSW government app. If someone tests positive for COVID, and has been there at the same time as you, the app sends an alert for you to watch for symptoms and get tested if necessary. I'm sure we have copied the system from other countries so it would be familiar to many of my followers.