I can't quite shake off my nostalgia for the English Lakes District. It is such a beautiful part of the world. I became so attached that I honestly felt as if I would be happy to spend my final days there. Many years later, through family history research, I learned my grandfather was born about twenty miles from Grasmere. Funny huh? As if you inherit a memory gene.
(And just in case that comment falls across the desk of a fellow researcher, my grandfather, John Clark, was born in Grange-over-Sands in 1865. His mother was a Cleminson from Cartmel Fell.)
Disparate memories from all those years ago flick through my mind. Occasionally taking the double-decker bus to the nearby towns of Ambleside and Windermere. From the high vantage point of its upper deck, no longer constrained by the dry stone fences and hedgerows that obstructed my view of the paddocks when driving, I could gaze down on the sheep. I realise now they must have been the hardy Herdwick breed; a native of the district who could be safely left to roam the fells in all sorts of weather. Being as how Australia thrives on the Merino, whose tails are invariably docked as small lambs, I was fascinated to see that these sheep had a long, woolly – almost shaggy – tail. Many also had blue paint splotches on their hindquarter, which at the time I imagined meant that the ram, who I presumed had been painted blue on his belly, had been around to do what rams are meant to do. In hindsight it may have been a marker so that each herder could identify his stock if they wandered too far over the fells.
More often I would drive my trusty-rusty Vauxhall Viva into Ambleside, becoming very familiar with the twists and turns of the narrow country roads, and probably taking them at a speed I would not attempt today. I never locked my car – it wasn't necessary then unless it was summer – and I would frequently return from an errand to find someone settled in the passenger seat, hoping for a lift back to Grasmere. Or they would just leave a note under the windscreen wiper, saying they were at such and such a shop – or more likely, the pub – and could I pick them up on my way home?
I could never gaze upon the many lakes of this area without being reminded of two childhood connections . . . the brief possession in primary school of a set of Derwent colour pencils similar to the picture below . . . although perhaps mine were in a tin . . . or more probably that upmarket set belonged to a classmate, and I merely coveted it . . .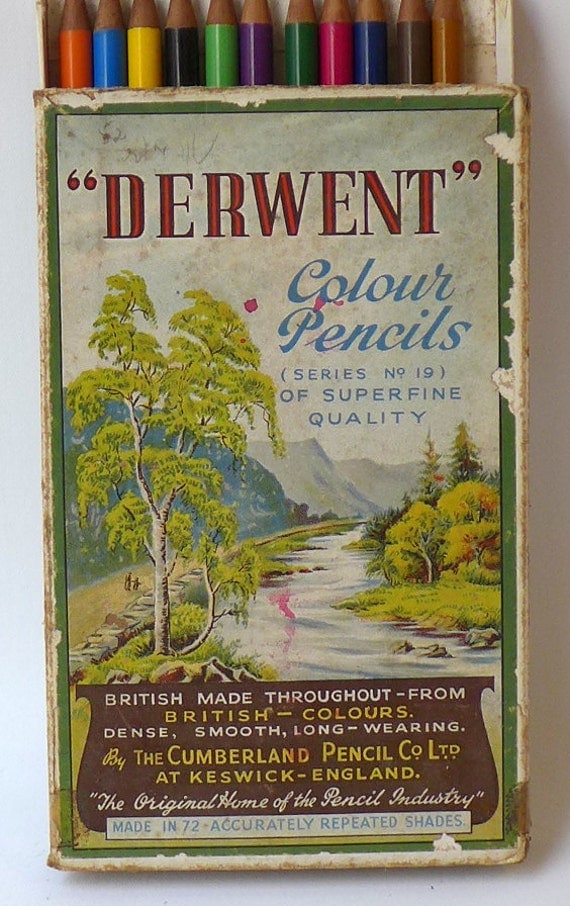 . . . and the terribly sad end of Donald Campbell who died while attempting a speed record in his rocket car the Bluebird. Considering I was only eleven years old when it happened, it was an odd thing to to stick with me. But there you have it.
Whenever I scaled the fells behind Michael's Nook by myself, as I rested at the top after a moderately energetic hike, surveying the lake and the villages far below me, I would fall into a kind of meditative reverie. It was so peaceful and isolated. When I returned to Grasmere in the early 90s, I took Bill up there too. If I remembered the name of the walk I would share it. All I can say is that it begins at the back of Michael's Nook, and when you reach a tarn (mountain pool) on a flat part of the ascent you are not yet at the top, and you must continue on until you reach the summit and can gaze down onto Grasmere village and others in the distance, which sit on the lip of a very blue lake, which I suppose must be Grasmere Lake, one of the smaller of the area. Or perhaps I was looking down on Rydal Water. Or my memory might be completely faulty about all of that detail. Except I am positive that it started at the back of Michael's Nook 🙂
There was one last thing I wished to achieve before leaving the Lake District and moving on to my next adventure. I wanted to gain a working use of the German language. In high school I had studied French, and made a passable go at it. It was rusty by the time I reached Paris seven years later, as evidenced by when I asked directions to the station (Où est la gare?) by saying Où est la guerre? (where is the war?).
Anywho. Before I came to Europe I was working for a customs agent in Port Adelaide, and one of my roles was as de-consolidation agent for two German freight forwarders, Röhlig, and Hartrodt. Consigning freight in shipping containers, rather than in crates and packing cases, was still in its infancy at that time (the early 70s). In simple terms my job was to get the cargo out of the containers and delivered to the individual owners who had combined together, via the services of the forwarder, to share the space and lower their costs. I met the principals of both Röhlig and Hartrodt while I was still working in Port Adelaide, and had followed up by calling on them when I visited Germany as part of my first year travelling in Europe. There was the outside chance that one or the other would give me a job this summer (1979), provided I had some elementary German.
Well, I would need more than elementary skills to be honest. I had done the der, die, das bit in a community evening college before leaving Australia. I'd even practised it a little on my wanderings in Europe – particularly when behind the Iron Curtain, for example, in Poland. Now I was seeking to up the ante, and I learned that Grasmere was home to a retired high school German teacher. I sought her out and asked if she would provide private lessons for an affordable price.
The two of us had such a lovely time together. I suppose she was in her early eighties. She lived in a tiny cottage in the middle of a field, across the way from the Swan Hotel, half-way between Michael's Nook on its high hill, and the actual village of Grasmere, and she was surrounded by green fields and sheep. In fact, I think the cottage might once have been a shepherd's hut. It was white-washed, had extremely low, wood-beamed ceilings, and the front door was one of those half-shuttered arrangements where the lower part could be kept closed while you leant over the open upper half for a chat with anyone who wandered by.
I wasn't always the smartest student, and while she was a patient teacher, she was also stern and demanding and most particular about my accent. If she was giving me her precious time – and she had much less of that than I did if you get my meaning – then she expected I should make a serious effort to master her lessons.
She taught me right up to the moment that I left the Lake District, yet we didn't rekindle our connection when I returned at a later time. I don't remember why, but I suspect she may have passed on in the meantime. Or perhaps I had no further need to learn the German language. But even if that were so, I hope I would have gone for a visit just the same.
So now you are all thinking that my next destination was Germany? Wrong. But here's a hint  . . . it did start with a 'G'.
And I must correct a detail in my previous post. I said I went on to my English "mother" in Birchington-on-Sea. Actually, she was still living in Minnis Bay in Kent at the time. And the only reason I remember is because of the photograph of trusty-rusty parked outside the house – my "home base". As I recall, "my" bedroom was upstairs on the right, one room along from the front. I was quite miffed when the house was sold while I was away in Europe in 1979. No one consulted me as to whether I wanted to move! 🙂