It's not a lack of ideas that have kept me from blogging in recent weeks. I have been hectically busy for reasons which may become apparent at some time, and then again, maybe not. But a recent comment on a six year old post warmed the cockles of my heart, and prompted me to reshare it – even those many of my regular followers have read it before. But! What a thrill when a relative of who you have written about takes the time to comment, and praise what you have said. As a writer, for me, that is the biggest reward of all.
The Reluctant Retiree
Day 6 of our Broken Hill adventure (lunch and after)
Whoever said you should "never judge a book by its cover" might have been thinking of White Cliffs, home of Australia's first commercial opal fields.
On the surface, despite the pretty blue of the sky, the landscape seems a wasteland, a moonscape dotted with craters: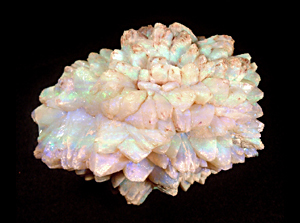 Opal Pseudomorph, source http://whitecliffsopal.com
Below the surface though, are some of the most magnificent opals available, including the unique speciality, the "pineapple opal", whose correct title is a pseudomorph.
The other thing you will find underground is the people. Not just while mining. Under the surface is where most residents choose to live, in homes they call dugouts (self-explanatory really). Life underground is a year round 22'c (71'F), while up top, temperatures can range from freezing to 50'c (120'F). 
Some businesses must operate above ground though, and we stop…
View original post 1,779 more words