5th March, 2019
After checking out of our Coffs Harbour accommodation, Bill and I headed up the road to Grafton, NSW, taking the inland route that you may be able to see marked in red on the below map. For the benefit of my overseas followers, the yellow line marks the border between New South Wales and Queensland. (Brisbane is north of Tweed Heads).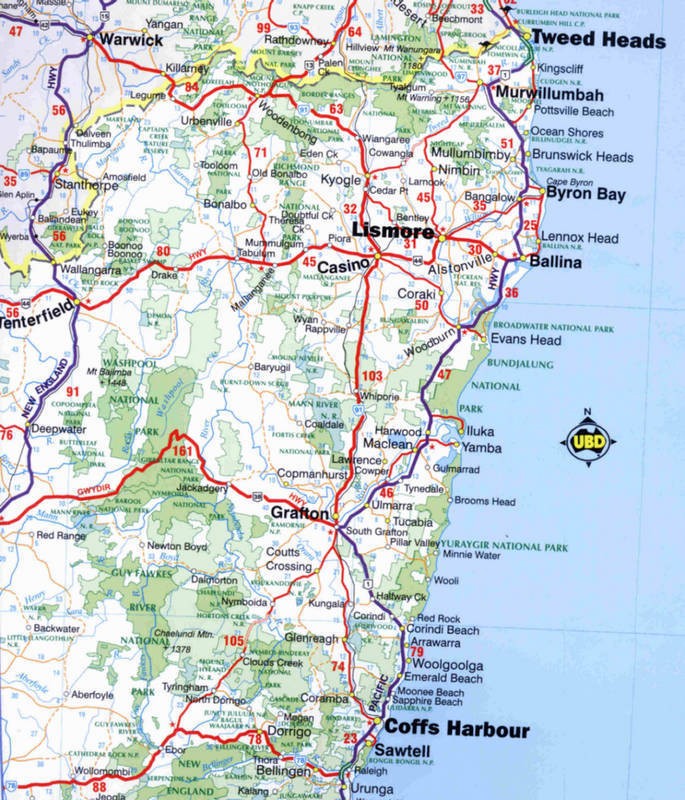 Grafton is "a city in the Northern Rivers region of New South Wales, located on the Clarence River, approximately 500 kilometres (310 mi) north-northeast of Sydney, population around 19,000." . . . If you clicked through the link on the Clarence River, you might have noticed that one of the nearby towns it passes through is Tabulam. Just a little over two weeks before our trip, a massive bushfire had torn through that town (population about 470), eventually destroying around 20 homes, 50 outbuildings, and scores of stock. Unfortunately, this fire was caused by the  inexplicable actions of a local woman who set a fire during a total fire ban. You can read more here, including two contemporaneous local news interviews. And there is plenty more on the internet if you would like more information.
On a more positive note, Grafton is famous for the jacarandas that bloom around November – which they celebrate with an annual festival – and it is a country town I have long wished to visit. It is a gracious rural city with fine Victorian architecture and wide tree-lined streets. We collected a walking tour map from the visitor centre and set off. Perhaps, though, I was feeling a little fatigued from the high-school year reunion, as I wasn't finding the exploration as fabulous as my expectation. Don't get me wrong – Grafton is a lovely regional town, but the weather was hot, really hot, and a bit sticky, and although I was wearing white slacks, the fabric didn't seem to be "breathing". I just didn't have the oomph that would normally see me striding out investigating the history and heritage on offer. I'll need to return another time to get the best appreciation.
We did linger in the Christ Church Cathedral on the corner of Victoria and Duke Streets. If I'd had my thinking cap on, I would have noted it was designed by John Horbury Hunt, the Canadian born, US-trained architect whose buildings we have previously come across in various regional towns, for example Booloominbah in Armidale, and Camelot in Camden (formerly Kirkham). Many of these private homes are connected with various branches of the White family, influential pastoralists, whose descendants include our famous author, Patrick White.
I'm a bit of a Heinz 57 varieties when it comes to faith, and since I have never seen the Stations of the Cross outside of Catholic churches, coupled with the very modern look of the designs inside the Anglican Cathedral of Grafton, it took me a moment to realise what I was looking at. It gave me a hint that the services in this particular church are modelled on very traditional "high" rites. 
I saw these depictions again a few weeks after our visit – on the nightly news. In mid-March, a prayer service was held in this cathedral for the 50 Muslim victims of the Christchurch massacre. The alleged gunman grew up in Grafton. Let's hope people have short memories, as this beautiful town does not deserve to be remembered for the actions of one individual, alleged or not.
Most of the lead-light windows in the cathedral are memorials to other people: notable residents, regular parishioners, those who fell in war. They are spectacular, as these few examples exemplify.
Leaving the cathedral, we straggled further down a street, until my eye was caught by a massive Moreton Bay Fig. Well, I could hardly miss it, really. It was growing in the middle of the footpath. I seem to have a fascination with these trees. They turn up regularly in scenes in my current manuscript – so much so, that I have started to cull those passages. Isn't this a beauty?
We eventually found ourselves beside the banks of the Clarence River, watching a young woman run sprints with her toy dog, a bundle of white fluff who was tootling along beside her. We looked across to the bridge spanning the river. It's a very unusual construction, two-storey; one for vehicles and the other for rail. It was obvious to us when driving in from South Grafton that its best years are behind it, and there are plans afoot to build a new bridge, at the estimated cost of A$240 million. Meanwhile, though, one of the walks tourists can do is out to the bridge and under it. Another twenty or thirty minutes walk in the sticky heat.
Bill and I looked at each other –  were we up to the walk? "Yeahhh . . . no", we said. This way of speech has become ubiquitous in the Australian vernacular. No doubt we have imported it from American TV shows, then layered it with a particularly Australian inflection. The best I can explain is that it is shorthand for "yes, I hear/understand you . . . but, no, I don't agree".  Feel free to throw in your own interpretation.
Back in the car, we continued north to Casino, our destination for the night. Curiously, one of our neighbours in the over-55s complex where we live in Wollongong, nearly eleven hours drive away, was "baby-sitting" her teenage grandchildren there, something we'd discovered in casual conversation, and as a result, had arranged to stay the night.
Before heading out to the house on the city out-skirts, we took a quick look around the town. Once more armed with a city tourist map, we soon found ourselves following the path of Casino's river – the Richmond. River levels were very low, and we wondered what level water restrictions might be operating for the area. You can see in this article that Level 3 had been imposed only a few weeks before.
One item of special interest was a nearby platypus pool. I was having trouble interpreting the sketch map, so we never actually found that hidey-hole.
What we did find was a man exercising his two dogs by swimming them off a nearby weir. They were incredibly well-trained dogs, responding to his voice and hand commands just as you see in sheep-dog trials; and one of them was a breed commonly used for that purpose.
The other incredible sight at this spot on the river was hundreds of fruit bats flying in to rest in the trees. I was inclined to say they had flown in to roost, but these guys took off again not so long after they settled, and in any case are nocturnal feeders and this was still late afternoon. The first hint of their arrival was the extremely high-pitched screeching and scratching on the approach. Then the sky was filled with flying objects that looked like – well – extended bat-wings. Very hard to photograph in flight. This photo gives only a glimpse.
It's an amazing sight to see so many come in at once and latch on to every available branch in the riverbank trees, hanging upside down and wrapping their wings around them so that they look like so many strange fruit suspended there.
Fruit bats (or flying foxes) often get a bad rap. In some countries they are associated with carrying rabies. While that is not the case in Australia, ours can carry lyssavirus, but since most people don't actually handle them, it is not likely you will catch this virus. I have never known of anyone who has. Another concern is that bats are dirty, and drop their poop all over the place. Not possible, I don't think, as to the best of my knowledge, they don't have a poop-hole. But just like us humans, I think, if you're going to spend a lot of time hanging upside-down, chances are you will throw up what you just ate. I know I would. But this habit of regurgitation is an important part of our ecosystem, as it spreads plant seeds far and wide, given that fruit bats eat . . . well . . . fruit, nectar and pollen. Of course, if the colony gets overpopulated, then they can weight overload and strip trees to the point that they, the trees, can become damaged beyond recovery.
So you get the idea, I quite like the little critters. When I lived in inner-Sydney (Pyrmont), I would often walk to work in the early morning along city footpaths scattered with dried fig pods, the leftovers of their feast from the night before. I'm not sure if the average pedestrian knew what it was, as the bats had moved off during the night. They can travel incredibly long distances, and I think at that time, their daytime hide-out was in the palm groves of the Botanic Gardens, where sadly, there were definitely not welcome.
The banks of the Richmond River in sparsely populated Casino (< 10,000 people – probably more bats?) looked a much better choice 🙂 .
UPDATE 18/10/2019
For most of October 2019 bushfires have been raging in these areas we drove through in March.  If you are reading this blog post and would like to help, you may find this article of interest: https://www.echo.net.au/2019/10/can-help-bushfire-survivors/